Information campaign
The Ugo Bordoni Foundation, as service provider, in order to increase the dissemination of correct information on the new RPO and to promote awareness of the new rights acquired by citizens, the obligations for operators and how to subscribe, has developed a series of information tools, including printable materials, informative videos, and infographics.

Information materials
View the different information materials in printable version and in different formats, both general about the service and specifically dedicated to citizens and operators.
Download information materials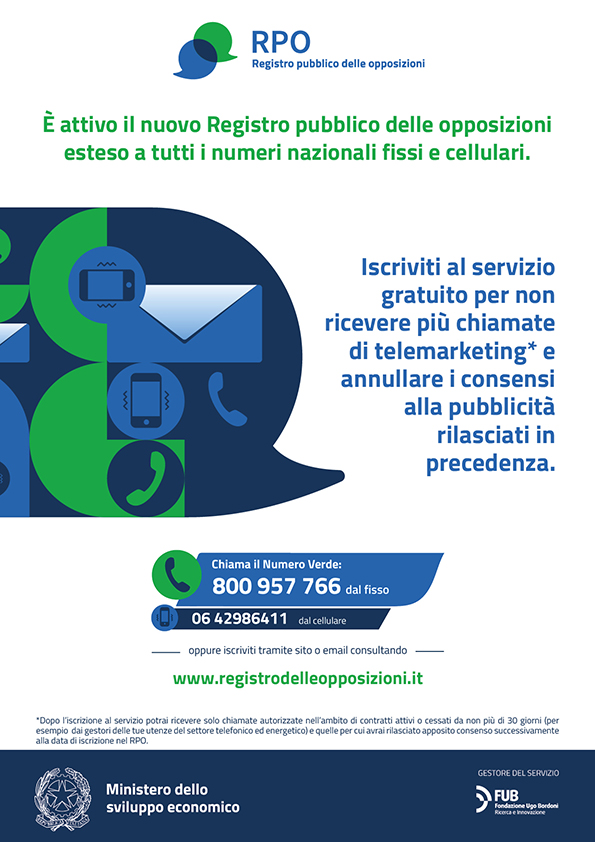 Informative video
View the informative video of the new RPO, which explain the new rights acquired by citizens and the obligations expected of operators, as well as providing practical references for operating the service.
Consumer information campaign
As set forth in Article 11 of Presidential Decree No. 26/2022, the Ministry of economic development (today Ministry of Enterprises and Made in Italy) and the Presidency of the Council of ministers, in cooperation with the National council of consumers and users, in the first six months from the activation of the new RPO shall carry out and promote an information campaign for citizens, aimed at raising further awareness of their rights and of the modalities for opting-out of the processing of data for telemarketing purposes carried out by telephone and to postal addresses included in public telephone directories.
View the TV commercial of the institutional campaign
Infographic
Check out the infographic containing service statistics with data from 2011 to 30 June 2022 (RPO only for numbers and addresses in public telephone directories), as well as information on the development of telemarketing legislation and the new RPO.
Download information materials